In the Wall Street Journal's reporting on the US Senate races, it was interesting to note a small tick entitled "60 Seat Majority" placed underneath a colored band of various Senate race likelihoods. See graphic below or
online
: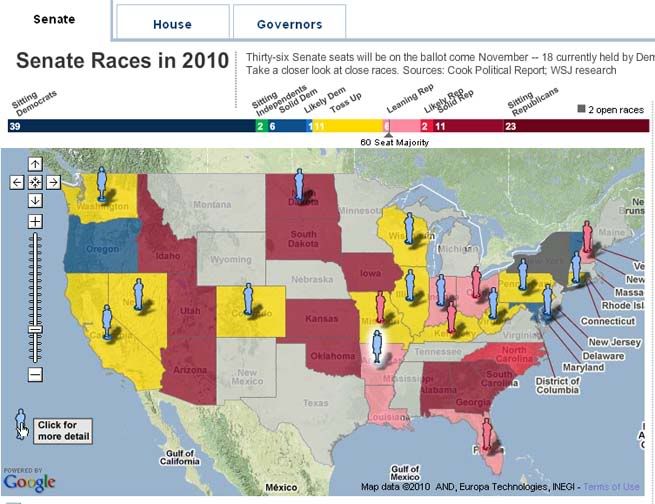 What the WSJ really means by a "60 Seat Majority" is of course a "
Democratic
60 Seat Majority" as the tick is placed at the position to include 60 Democratic Senators. Noticeably absent was a corresponding "60 Seat Majority" tick drawn towards the blue side of the color band to represent the equivalent Republicans would need.
Democrats currently hold 57 seats plus 2 Independents who caucus with the Democrats. No political reporter is talking about anything close to the Democrats retaining seats; the big question is whether the Republicans can stretch to the 50-seat halfway mark (or perhaps beyond) with consensus building around a projection of 7 or 8 GOP pickups.
The position of the "60 Seat Majority" tick demonstrates biased Democratic thought by the WSJ in terms of measuring the 2010 Senate elections up to a irrelevant 60-seat Democratic Majority.